*This post may have affiliate links, which means I may receive commissions if you choose to purchase through links I provide (at no extra cost to you). As an Amazon Associate I earn from qualifying purchases. Please read my disclaimer for additional details..
Whether you're moving into your first place by yourself or relocating because you want to find something better, everyone wants a good deal on a new lease.
While the rental market is still quite competitive, a lot of apartment complexes and landlords are making moves to draw in the best tenants.
That could mean things like free internet and cable bills, yard care if you have a yard and even things like monthly cleaning services.
For years, interest rates on mortgages have been at historic lows. People can buy houses earlier for less money than in generations past. As a result, a lot of property managers and individual landlords know that they have to sweeten the pot.
Do Apartments Usually Have Free WiFi?
Getting an apartment with wifi that's free or already installed cuts out one of the most difficult tasks of moving into a new place. In this world of remote work, it's especially important to get the internet up and running quickly to make the transition smooth.
If you're lucky enough, you can find apartments with free wifi. It's not exactly common in complexes and individual units, but there are a lot of places that include internet costs in your rent.
Again, you have to look at the apartment you're renting and the amount you're paying.
Let's say, for example, you're renting in a new complex that advertises free wifi. If the rent is one or two hundred dollars over market rates, the complex will likely tell you that the premium you're paying is because everything is new.
That may be true, but part of that cost is likely due to internet availability. Do the math and you'll know whether you're truly getting it for free.
On the other hand, older complexes could kick in free internet to keep tenants from moving to other apartments.
Likewise, if you find a landlord who manages their apartments individually, they could include the internet because they don't want to deal with changing the account into a new name every time the tenant changes.
Of course, you can always ask for free internet. It never hurts to inquire about whether the management or owner will throw it in as a lease incentive. The worst that can happen is they say no.
Finding Good Deals on WiFi in Your Apartment
If you're moving or thinking about signing a new lease in your current apartment, you should remember that you're in a relatively good position.
Landlords in all but the highest-demand complexes will want to get you into a lease and paying rent as quickly as possible. They likely have carrying costs like mortgages and utilities that they have to pay.
If you move out of your place, they'll probably have to skip one month's income to clean the carpets, repaint, and advertise the vacancy on websites to find a new tenant.
Asking for free internet is no big deal. Landlords get all sorts of interesting requests from prospective tenants, so don't be shy.
Larger internet complexes will offer incentives during slow months as well, so you could score free internet when things aren't as hot in the rental market.
That usually happens in the winter or the middle of the school year when people aren't in transition as much.
The cheapest way to get wifi in your apartment, if paying and installation are on you, is to research local internet providers and talk to them about any available deals.
Do All Apartment Tenants Have to Use the Same Internet Provider
Generally, everyone in the same apartment has to use the same provider. Most units have limited hookups. While anything is possible in terms of providers, you're going to save money by keeping it to a single provider in an apartment.
Often, large apartment complexes will take care of internet hookups. That means moving into an apartment there will limit your options.
If you're particularly inclined to use a certain provider, check with the management team about whether the company is available for use. It could impact your decision to move in.
Typically, you'll get more flexibility in an apartment managed by a single landlord versus living in a multi-family complex.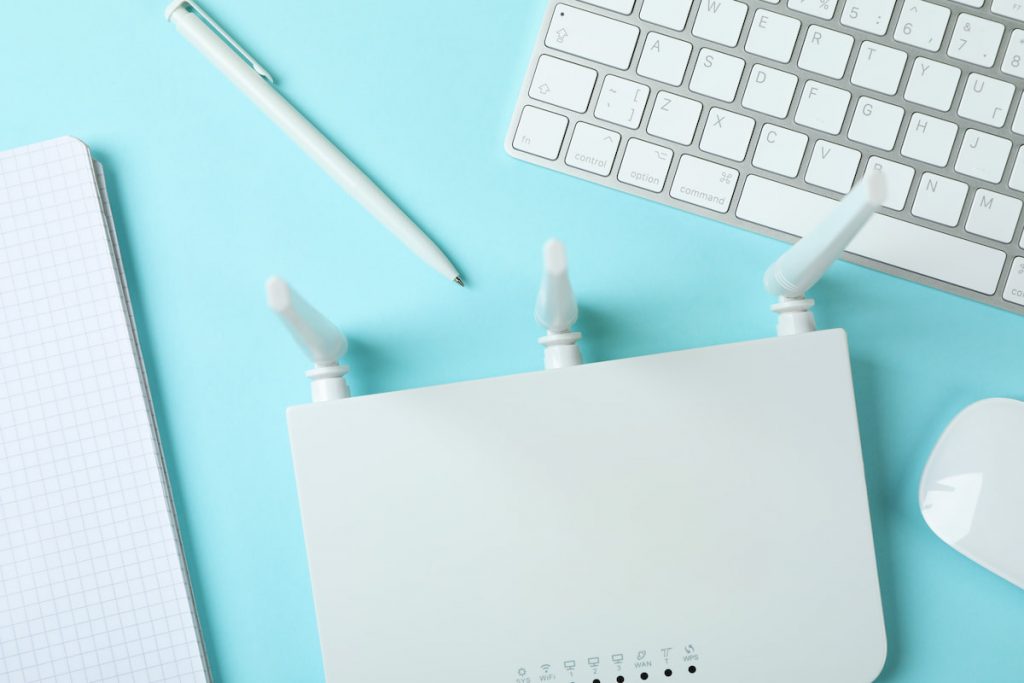 Getting Your Internet Set-Up for Optimal Performance
Everyone dreams of blazingly fast internet that never has service disruptions. Though apartment wifi can be rough sometimes, things are always getting better.
People in complexes used to complain all of the time about internet speeds during peak hours. When everyone jumped on the internet to stream shows after work, things slowed to a crawl.
While that is sometimes out of your control, there are things you can do to improve performance in your apartment with the right wifi setup. Here are some things to consider:
Placement of your router – this is often the biggest problem people in any house or apartment face when it comes to connectivity. Distance from your router will dramatically limit download and upload speeds. If possible, keep a router or a repeater close to where you're working, gaming, or watching.
The type of router – Higher-end routers cost more because they provide better bandwidth and can broadcast in a wider area.
Hardline in for the best results – If you're a gamer or you need a more steady internet connection, then you should connect directly to your router via an ethernet cord.
Use repeaters if rooms are far away – Depending on the size of your apartment, you may need wifi repeaters to blast the signal into far-off bedrooms. That will keep your internet even throughout the apartment.
Ask the installation technician – If you're in charge of installing the internet with a provider by yourself, then usually a technician will come out to your apartment to get things going. Talk to them about where you're going to be using the most devices and they'll design the wifi setup to accommodate you best.
These are just some hints to get you the best connectivity possible. Moving into an apartment with the internet already in place can be a huge bonus, especially if you need to hit the ground running and don't want to work off of your phone's hotspot until someone can come out for the installation.
Talk to your apartment complex or landlord and ask about the internet. They'll usually do their best to make things as easy as possible for you.
The dream is to find an apartment complex that looks great, is at market prices, and includes free internet that's stable and fast!
Doing a bit of legwork in terms of research before you move could pay off and you can save a good chunk of money if it's included in the rent.
As more people demand good-quality internet and including connection costs in the rent, more landlords and complexes are listening and taking action.
Your odds of finding an apartment with wifi installed are much higher than in even the recent past. Remember, it never hurts to ask and there are deals out there to be had.
Resources: