*This post may have affiliate links, which means I may receive commissions if you choose to purchase through links I provide (at no extra cost to you). As an Amazon Associate I earn from qualifying purchases. Please read my disclaimer for additional details..
Records are not a very common way people listen to music these days but we have witnessed their comeback in the past few years.
The sales of records have been off-charts in the 21st century. This has surprised a lot of people because in the late 1980s, records were in serious decline mainly because of the invention of the compact discs also known as CDs.
But now, records are back with a bang as many stores that used to sell compact discs a few years ago have replaced them with records. The sales of these records has not just remained steady but has increased a lot even when most people get music digitally.
Records are mainly used by producers to produce quality music of all genres. DJ's also use them to mix different songs together to make them more modern and different. Nowadays, records are mostly bought by collectors and loyal music fans and this is the reason the business of records is still growing.
7 Ways to Hang and Decorate Records on The Wall:
There are several ways people collect records. Instead of using them to listen to music, records are used to decorate stuff or get hung on a wall to add design to it.
Hanging records tells a great deal about your music taste and gives off a calm and retro vibe.
Sharing your taste in music through records is a whole other level of communication. Here are some fresh new ways to hang your records as decorations on your walls.
1. Frames
Who doesn't love a grid of frames floating on the wall? These frames are the best way to access records quickly while still enjoying the creative artwork in a beautiful display. Let your album speak for itself while it hangs on the wall.
First of all, decide how you want to arrange your records on the wall. Purchase 4 screw hooks per record, mark the location of the screws and insert them into the wall at the marked areas. Place your record at the place you want to hang it on.
Make sure to put them in sleeves so they're safe and you can easily replace them with other album records when you feel like a change. It will surely make you and the visitors who visit your house feel fresh and energetic.
2. Props
If you have colored vinyl, then record props will give your wall a good pop. Trust me, it will look cool with bright colors on your walls.
Try to have special or contrasting colors that match your wall's color. Record props are designed in such a way that they have a popped out circular hanger. You can display the music picture on a hanger and also hang your record with them. It is a great way to show what is "now playing."
You can also create a long collage of records on your wall. Records are built to last long so you do what you are comfortable with.
3. Clock
Do you wish to create a vintage look at the home, office, or in a café?
Wall clocks made from records bring out the charm and a classic aura to a house. It's very unique and gives off a decent look. If you are a fan of simplicity then you must try this record clock to decorate your wall with a masterpiece.
You can buy it as well but making it at home is something fun and customizable. Use a damaged record, to begin with.
First, choose a record and expand the record hole with a drill, widen the center hole so that the clock hand can fit in easily. Attach the movement of the clock to the record, then for a good look paint the clock hands to match the color combination.
Attach the clock hands and finally hang your clock on your wall. This is super useful and it gives a dashing look.
4. Wall Decal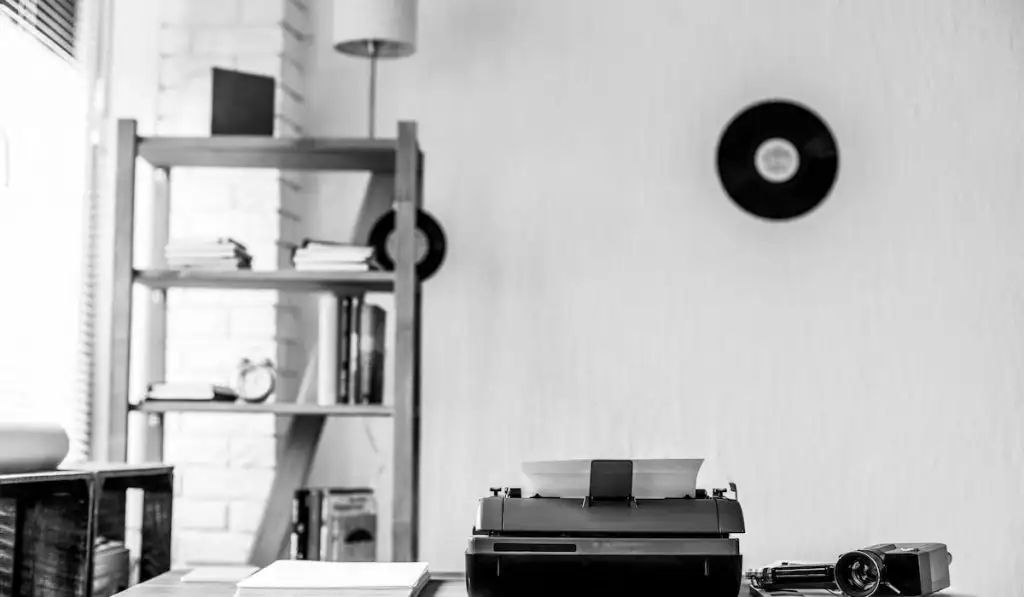 So if you are planning to give your room wall a short-term makeover, go for a record wall decal. You don't need to invest in expensive and fancy accessories.
All you have to do is be mindful about the décor scheme and then pick a record color that goes best with your room décor.
You can also make your own custom records which are trending these days.
Decide where you want to put your record decal on the wall. Purchase screw hooks, mark the location of the screw and insert them into the wall at the marked area.
Locate your record decal at the place you decided. Make sure it looks colorful and enhances the look of your wall.
5. Mirrors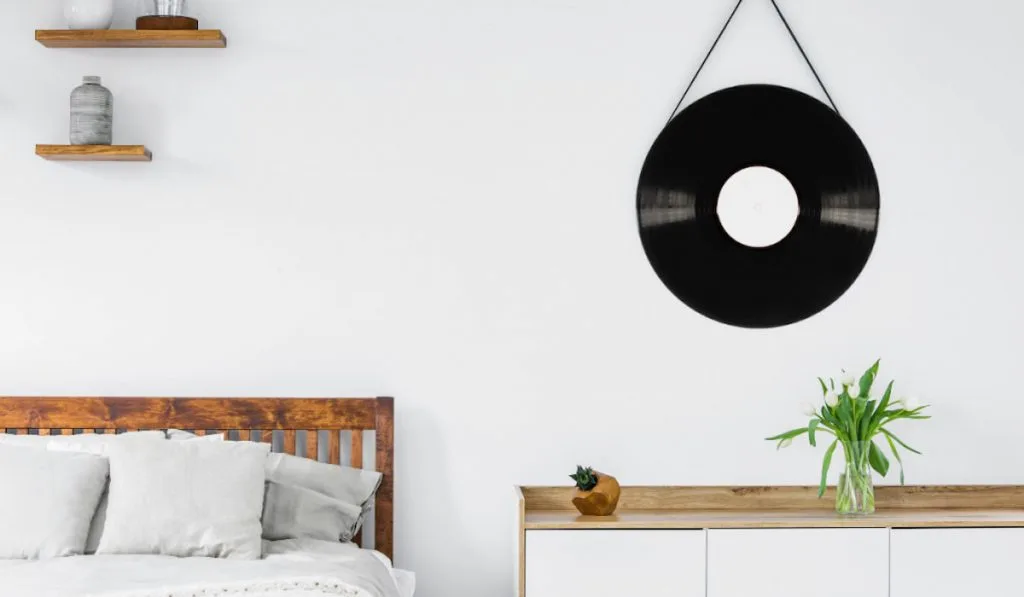 Despite wall art and accessories, a very unique way of decorating walls is the record wall mirrors. The mirror on the wall with records gives a vintage look which is such a unique and good idea.
This mirror could be an ideal music gift or a piece of décor for many music lovers.
Combine it with 10 vintage records all with different colors. Stick them together in a circular way by making a perfect circle around the mirror. It's very easy to make a thorn but takes effort and is totally worth the time you put in it.
6. Fancy Lights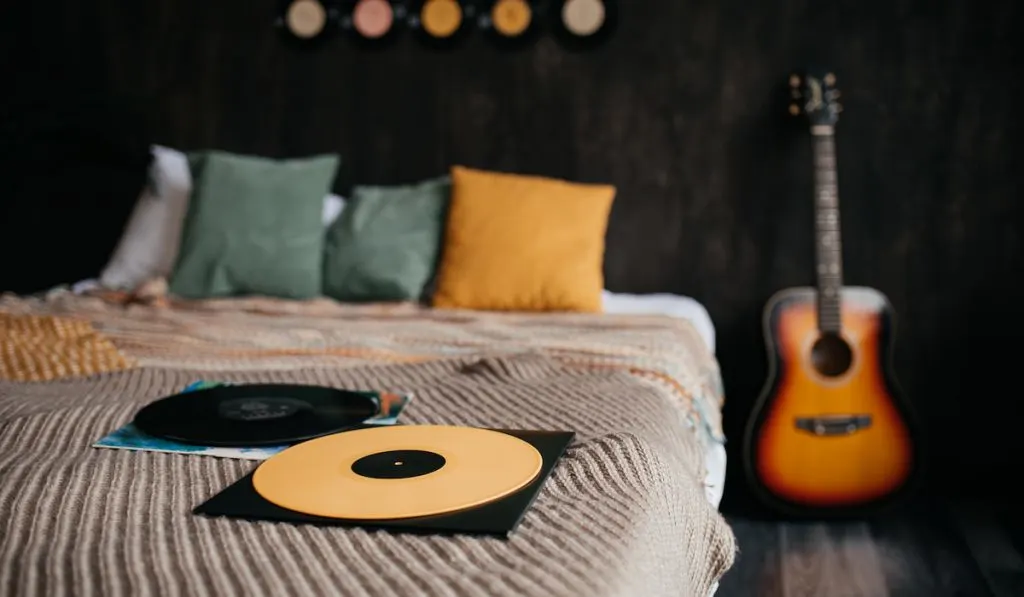 The fancy record lights are a unique design that give a flawless glow.
These are available in many different designs and sizes and also available in many versions such as table lamps, wall lamps, fancy lights, etc. it is very easy to make using tools everyone would probably have at home or stuff that is easily available almost everywhere.
Gather all supplies such as a switch, lamp cord, socket, adapter, etc. and then drill the holes in the record. Connect the wires, and assemble them. Finally, put the bulb in it and hit the switch to see an amazing glow and high-quality brightness.
Try this in each one of your rooms to get a unique glow.
7. Dream Catcher
A great and easy way to decorate your wall is to make your own dream catcher and keep yourself away from bad nightmares.
Finally, allow yourself to allow only the good dreams to pass through. Use the records to make your dream catcher different and minimal.
Let the music live on your walls through the dream catcher. You only need a few things and it is a very easy process.
All you need is a record, string, and feathers. Decorate the record in the way you want, put feathers on it with the strings to make it more pretty, and it's ready to hang on the wall and keep the bad dreams away!
Why Are People Still Buying Records?
Collecting both new and vintage records is a remarkable experience. Such collections carry significant resale value so more and more collectors are interested to consider records as valuable investments.
Also, these days people are very used to hearing music in a compressed format. This compression reduces the sound quality but records contain the original quality of how the music artist intended them.
Purchasing records is a great way to support your favorite artists and help them make sure that they continue producing their music in a sustainable manner.
For many music lovers who want to help them immortalize their music taste outside the internet, records are the only best option for them.
Conclusion
It is evident that the records are on their way back and are truly making a comeback. Continuing the very surprising comeback of this digital age, album sales continue to shoot up.
Records are physical items that can be collected easily, held in our hands, and purchased physically. Someone is coming over to your place? Good, show them your interesting taste in music with your new music decorations.