*This post may have affiliate links, which means I may receive commissions if you choose to purchase through links I provide (at no extra cost to you). As an Amazon Associate I earn from qualifying purchases. Please read my disclaimer for additional details..
If you've ever lived in an apartment, you know the stress of dealing with noisy neighbors.
The knocking on the floors in the unit above you as people move chairs and even walk from room to room.
You may have hard bumps against the walls next to you or music playing late into the evening. But worst of all, you may have been living under or next to someone who owns a treadmill.
The thumping of running constantly going on in the background as you try to work, sleep, or have serious conversations can be too much to handle.
Knowing that noise travels so easily through the walls and floors probably makes you self-conscious about what you're doing in your home and how much noise it's making for your neighbors.
But what if you want to exercise at home? Can you find a quiet exercise machine that doesn't disturb neighbors or other people in your house?
Luckily, there are a lot of quiet exercise options.
Modern machines have come a long way to reduce noise and improve performance. You can get a fantastic workout without all of the commotion.
Having quiet exercise machines comes with a lot of benefits. You can work up a sweat while you're on a zoom call or attending virtual parent-teacher conferences.
Finding the right quiet exercise machine for you is easier than ever.
There are several choices whether you want to do something cardio-related or you want to strength-train.
Here are nine quiet exercise machines you should consider.
1. A Quiet Rowing Machine
In gyms across the country, you can hear the whirring of fans inside the rowing machines.
The whoosh of the pulling lets you know how fast someone is rowing and how hard they are going.
But developments in the fitness industry mean that there are now quiet rowing machines that cut down on the noise to make rowing quieter.
When shopping for a rowing machine, look for one with magnetic resistance. These are much quieter than air resistance rowers.
If you can't find a magnetic rower that you like, hydraulic rowers are the next-best option. Modern rowers can also fold up to be stowed in a closet or against a wall, an ideal feature for an apartment or small-space living.
2. High-Quality Exercise Bikes
Peloton bikes are pricey but people absolutely love them.
When you're riding a Peloton, the loudest part of your riding experience is clipping your shoes in and out of the bike.
Riding, however, typically makes as much sound as a normal conversation.
Parents with small children can ride their bike while the kids nap or you can exercise without worry if you're getting up early before work or want to get a workout in after everyone's asleep.
If you don't want to spend thousands of dollars on a Peloton, there have been a lot of competitor products popping up in the market recently.
Take a look at online reviews and find something in your budget that won't make a lot of noise.
3. Affordable Exercise Bikes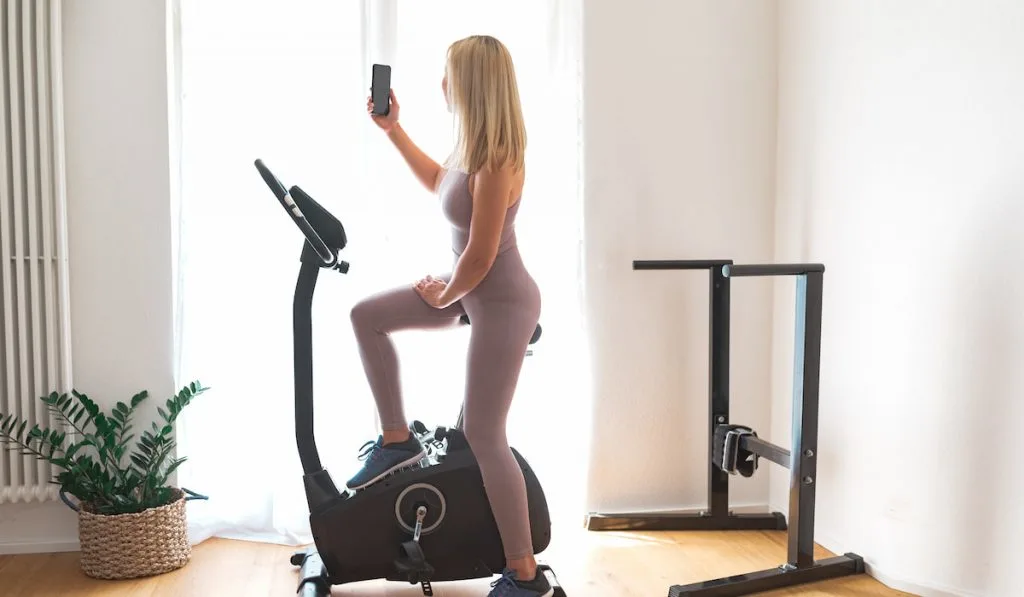 Like we've said, you don't need to spend thousands of dollars on a designer exercise bike if you're on a budget.
You can find something for a fraction of the cost that will still give you a good workout and will keep the noise down.
A great option is the Schwinn Upright Bike Series which can be purchased on Amazon for around $500.
It's a great choice for apartment living because it's upright so it takes up less room than some of the biggest exercise bikes out there.
You can stick it in the corner or next to a couch and watch tv or listen in on a conference call while you ride.
4. Mini Exercise Bikes
If you spend hours on Zoom calls, then having something a bit more discreet can help you burn some calories during the day without making too much sound.
If you look on sites like Amazon, you'll find some mini exercise bikes that are the size of a small footstool.
They'll easily fit under your desk or a table and you can churn your feet instead of sitting idly. These mini bikes are very affordable and many of them have thousands of positive reviews.
5. Resistance Bands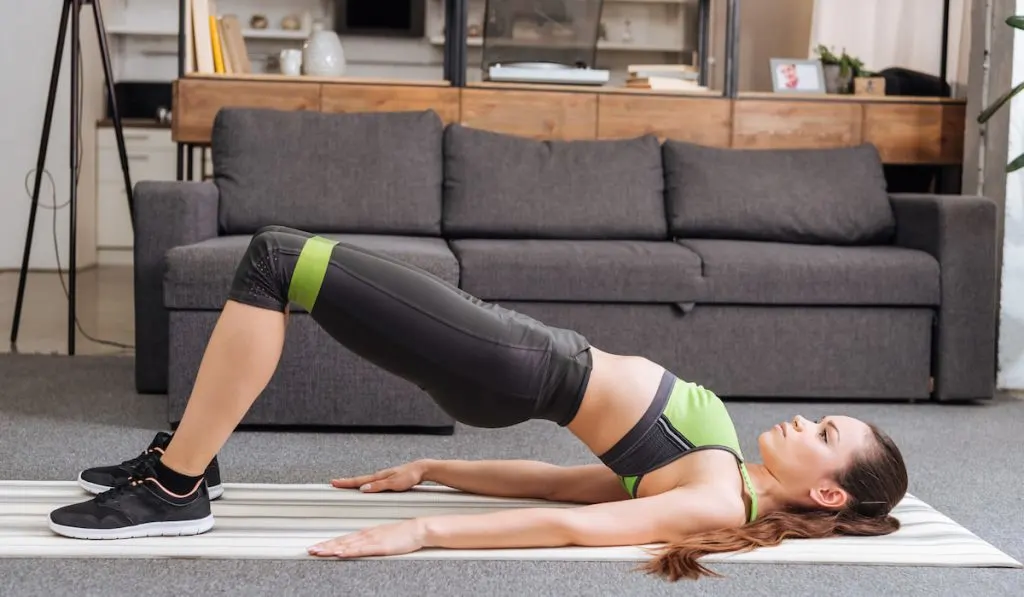 While this isn't what most people would call a machine, it's still exercise equipment that's great for resistance training and will get your heart rate up.
Resistance bands can be purchased on Amazon or from your sporting goods store. They come in different resistance strengths, and there are a million different exercises you can do with them, from arm curls to squats.
They won't make any noise at all, so you don't have to worry about disturbing the neighbors or waking up other people in a small apartment.
6. Explore Magnetic Ellipticals
Once again, magnetic exercise machines generally make much less noise than air resistance devices.
People love working out on elliptical machines, and thankfully they come in a variety of different magnetic models.
Schwinn, Diamondback, Ancheer, and Sole all make magnetic ellipticals that will keep your workouts to a dull hum instead of the high-pitched whirring older models produce.
7. Rubber-Coated Weights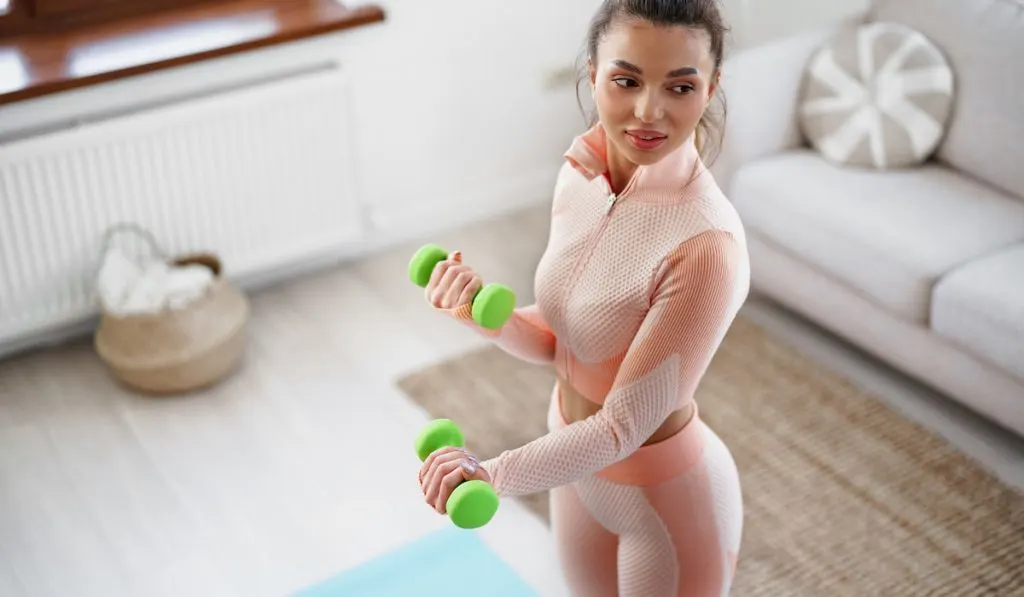 Yes, it's possible to lift weights at home without the sound of cleaning bars and metal.
You can buy weights that are coated with rubber to make moving them around much quieter.
Of course, if you drop a heavy weight, it's going to make a loud thud no matter what, but rubber coating will prevent much of the noise you make from going through floors and walls.
8. Vertical Climbers
More and more gyms are buying and installing vertical climbing machines because they are an intense, fun cardio device that athletes love.
Okay, there's also a little bit of hate there, but that's because the workouts are so good!
You can buy vertical climbers online to give your body a complete workout. It's better than plodding away on a treadmill, and the decibels are much more manageable.
9. Gliders
Gliders are like a quieter, less-advanced elliptical machine.
They break down into a very small package that can slide under a bed or fit into a closet. They make almost no noise because you are gliding back and forth while your hands hold onto handles.
You control how fast or slow you want to move and the lack of running makes the exercise easier on your joints.
We get it, exercising in an apartment, even if you live alone, can be stressful. You're concerned about making too much noise because you know how easily sound travels from one room to another.
Final Thoughts
With these quiet exercise machines, you can still stay in shape without worrying about disturbing other people.
That's important because, especially during the pandemic, we all need ways to burn calories, build muscle, and stay centered with home workouts.
If you're struggling to think of ways to exercise at home, these options are a terrific place to start.
As usual, read some online reviews, take your budget into account, and talk to friends about what has worked for them.
Try some of the devices out and see what fits best with your space and your lifestyle.
Resources